Paint the Lighthouses you Love
If you are like me, you may be fascinated with lighthouses. I always thought that they were all about the same, a large tower with maybe a small house next to it, then as I was developing this course, lighthouses became even more interesting in not only what they do but the metaphor they can create.
"If you open your eyes very wide and look around you carefully, you will always see a lighthouse which will lead you to the right path! Just watch around you carefully!" – Mehmet Murat Ildan
Within the Course
No matter your skill level, you can do this. First, we start with simple shapes, then evolve into more complex paintings, learn how to avoid outlining your subject by working with values, create different weather conditions and rocky shores and some even with trees.
To build your skills you will be guided through lessons, then if you like, interpret what you have learned into your own paintings.
More than just a Zoom course, all the lessons are already included within the course curriculum, simply login, start at the top and work your way down. With your enrollment you have immediate access to the lessons, painting reviews begin after the course start date.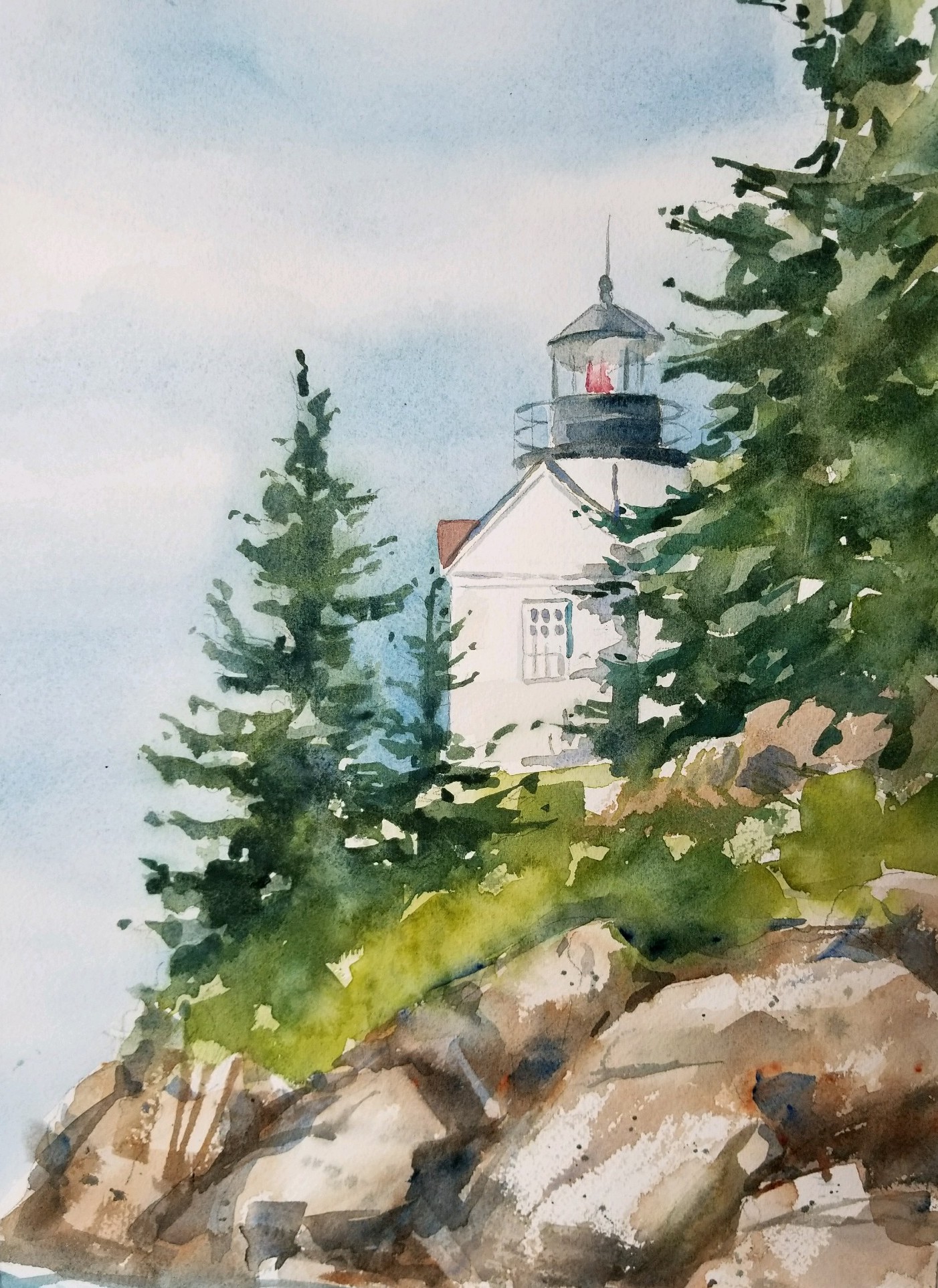 Live meetings
Everyone paints at a different pace, with that in mind meetings are scheduled every other week to check on your progress, keep you motivated and on track. Ask questions anytime by posting within the course, meetings are optional and where we review paintings, critique, problem solve, along with demonstrations.
Meeting schedule Oct 19 - Nov 30
(Meetings last for 1 hr.)
Oct 19 – introduction
Nov 2 - painting review section 1
Nov 16 - painting review section 2
Nov 30 - painting review section 3
Meeting time
9:00 AM (PDT) San Francisco
10:00 AM (MDT) Denver
11:00 AM (CDT) Chicago
12:00 PM (EDT) New York
5:00 PM (BST) England
About Lighthouses
Did you know, the reason lighthouses are painted differently is to help the mariner identify them during the day, and if it's painted white most likely the surrounding background is dark, meaning a lot of trees or fields, and if it has red and white stripes often it may up against a white background, such as cliffs or rocks, and the reason why many lighthouses are so tall is to be seen further away at sea and take into account the curvature of the earth.
The actual shape of the lighthouse often depended upon the whim of the individual designer, and location of where it will be and the different flash patterns allows their location to be identified.
The techniques and lessons here, will help you be to be able to paint any special lighthouse that you love.
"Lighthouses are endlessly suggestive signifiers of both human isolation and our ultimate connectedness to each other." – Virginia Woolf
What students say
"I am so happy and excited to beenrolled in this class. I keep learning, and making mistakes too, and am pleased with the results. The paintings come to life along the way, and it's fun to see other artist works and each individual style. I look forward to another class after this, it's nice to have each lesson broken down in smaller segments" Kay Keys Herndon
The 6-week interactive course
(Enrollment closed)
We have had an overwhelmingly positive response to this course, and in order to be able to focus on the students enrollment is now closed. Join the wait list for the next open enrollment session or give the independent study option.


Independent Study (Open)
Go at your own pace, paint anytime, day or night