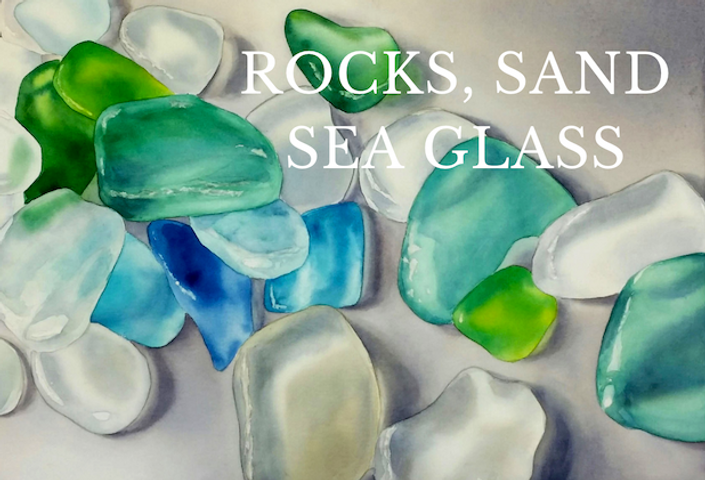 Rocks, Sand and Sea Glass, 6-week Special Interactive course
Nov 9 - Dec 21, you will be surprised how successful your paintings are, all levels
Watch Promo
Enroll in Course
What Students say
"This course has pushed my boundaries and definitely challenged me and I loved every minute of it! Living in the Yukon, I don't see a lot of ocean beaches ...although we do have a lot of rocks along with some colourful river rocks and lake glass...so visualizing sea shells, waves and foam really made me work my creative brain. Your teaching methods are so powerful, and your courses have enabled me to see almost everything is a very different way that I did "pre-Birgit"! Thank you so much for opening up my mind and helping me to make my paint brushes work for me in a way they never did before. I will definitely be taking advantage of learning more from you whenever I can." Thank you Gloria Andison, Canada
"Wow...this was mind bending for me!! My first half sheet..Lots of head scratching but learned heaps as I always do with the exercises!! Waaaaay out of my comfort zone...but some how made it on the other side..😅 Merri Chester
"I cannot describe how much fun this was to do! :-) :-) I don't want this class to end! Thanks Birgit! " Gail Gabriel, CA
"Your course videos and instructions, handouts etc were absolutely perfect. You leave nothing out of the instructions, thank you so much" Kathryn Bevin
"I want you to know that this particular format with your personal reviews and critiques and the combination of website and class meetings are the best online course I have ever taken." Debra Prat, MX
"I love love love this course.. Thanks" Elaine Netland

Thank you!!! I would never have thought I could paint like this. Amazing instruction and so easy to follow. You are an excellent teacher!! Kathleen Parker

" This was crazy fun!" Le'Ann Key
"this course is amazing! First art class I have taken, in person or any other way, with so much instructor input assistance and creative assignments! I'm overwhelmed at times because I'm just not used to the expert level of teaching and expectations of students but hanging in there and learning tons!!!! THANK YOU BIRGIT!
♥️♥️♥️
Nov 9 - Dec 21
More than only a Zoom meeting course, all the lessons are already included within the course, simply login, start at the top and work your way down. Meetings are optional and scheduled every other week to check on your progress, problem solve and review.
Painting reviews Paintings will be chosen from the submissions that best represent common issues that are helpful to the entire group. Please submit only one of each lesson and your best effort.
Everyone paints at a different pace, and with that in mind, the schedule below will be our goal and of the focus meetings.

Meeting dates
Nov 9 - introduction (how the course works, Q&A)
Nov 22 - Section 1 & 2
Dec 7 - Section 3 & 4
Dec 21 - Section 5
Meeting time
11 AM (PDT) San Francisco
12:00 (PDT) Denver
1:00 AM (CDT) Chicago
2:00 PM (EDT) New York
Rocks Sand & Sea Glass
I am always excited when we start this course, it's just fun and the results are amazing. You don't have to be a skilled artist to be successful, any level can do it, no real drawing skills are required, and you can easily create your own compositions.

Combine all the elements of this course in your own paintings, or focus on one subject at a time. What's really fun about what we are doing is hearing how the viewers of the paintings try to brush the sand off as if it was real. Learn how to paint rocks and easily submerge them underwater and what's really fun, is painting Sea glass.

What is Beach Glass or Sea Glass?
Basically it is broken glass that's been discarded into an ocean or lake, where it is tumbled by the force of the waves into smaller pieces, and over the years, which can take 30-50 or more, nature rounds and smooths all the edges and converts it into beautiful flawless, little treasures on the beach, when dry it appears frosted and wet it glistens like sea glass gems.

With Sea glass hunting becoming so popular, that there are many with books on the subject, festivals and social media sites with groups where buyers and sellers from around the world bid on collections of sea glass from Italy, Greece, Iceland, Scotland, Japan, Australia and beyond.

It's interesting how something that was originally discarded, that over the years evolves into beautiful Sea glass that can collected or used to create jewelry or mosaic-type art, and with its demand is getting harder to find.
What's the difference?
Sea glass has more of a "frosted" appearance and pitted surface due to a chemical transformation called hydration. When glass is immersed in salt water for a long period, the soda and lime used in the glass making process leaches out and creates the familiar pitted and frosted surface of sea glass.

Beach glass is created in fresh water, particularly the waters of the Great Lakes, and although it has been conditioned and smoothed by tumbling in waves, rocks and sand, its surface patina is different and less frosty and pitted than sea glass.
6 Week - Interactive Premium Course

Bonus included: Framing Without Glass

Go at your own pace
Paint anywhere at anytime day or night
Live meetings
Interact with other students if you like
Lifetime access with no time limit
Downloadable
Easy to follow step-by-step lessons designed just for you, paint realistic Rocks, Sand and Sea Glass, learn how to float leaves and put rocks underwater. Ask questions anytime during the course and you will be able to apply these techniques into your own paintings with confidence, have fun creating successful paintings with no mistakes. All Levels
Many students that have taken this course have gone on to be very successful artists, showing and selling their work.
Covered in this coarse

Rocks underwater
Realistic Sand and Sea Glass
Floating leaves
Understanding shape and highlights
Shadows
How to give an object a three dimensional look.
Positive and negative painting
Release the fear
Build your confidence
How to be successful
Composition
Different masking techniques
Step-by-step paintings
Create your own composition
Exercises
PDF Downloads
Downloadable video lessons
How to put sand inside the shell
Kelp
Be successful and Have Fun
Your Instructor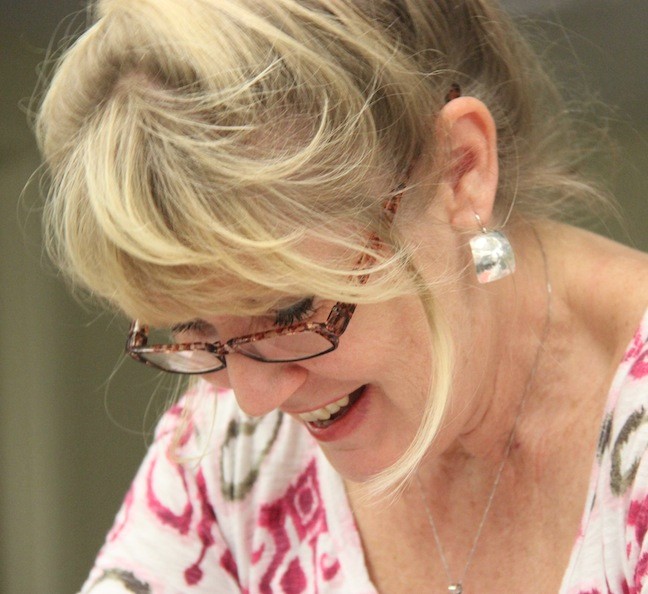 Birgit O'Connor, known for her original paintings and inspirational teaching style, is an award winning artist, master artist of CWA, NWWS, LWS and respected judge and juror.
She is the author of the top-selling North Light books " Watercolor in Motion""Paint Watercolor Flowers" and "Watercolor Essentials"
Birgit has been included in over 60 national and international publications. Her memberships include Cambridge Who's Who, Who's who in America and Who's who in American woman
Course Curriculum
Getting Started
Available in days
days after you enroll
Meeting link
Available in days
days after you enroll
Material list
Available in days
days after you enroll
Frequently Asked Questions
When does the course start and finish?
The course starts now and never ends! It is a completely self-paced online course - you decide when you start and when you finish.
How long do I have access to the course?
How does lifetime access sound? After enrolling, you have unlimited access to this course for as long as you like - across any and all devices you own.
What if I am unhappy with the course?
We would never want you to be unhappy! If you are unsatisfied with your purchase, contact us in the first 30 days and we will give you a full refund.
What People Say
"This was a fabulous course and I really enjoyed my "beach therapy" time doing it. I look forward to spending time beachcombing and finding subjects to practice on. Your course was really well laid out and easy to follow with lots of great tips and tricks." Patricia M. Mansell
Wildlife & Nature Artist
Thank you!!! I would never have thought I could paint like this. Amazing instruction and so easy to follow. You are an excellent teacher!! Kathleen Parker

"I love love love this course.. Thanks" Elaine Netland
"Thanks so much for your teaching these incredible online workshops...they are magic! :)" Debra Laurie

"I cannot tell you how impressed I am with the clarity of your teaching methods. So much detailed information and I was over the moon when my husband looked at my very first practice page and said "oh, those are beautiful stones". So I am going to frame this and use it for motivation. Thank you so very much for sharing your knowledge and for allowing us hobby artists to learn. I am delighted to be connected with you." Kind regards, Polly Richards, Vancouver, BC Canada
"I just finished your masking and texture lesson. WOW! I am so happy with my painting results. thank you for being a great teacher!" Arleen Schaller
"I enjoyed this course immensely, and learned more from you than any other art instructor!" Ingrid Farnham
HI Birgit, "I want you to know that this particular format with your personal reviews and critiques and the combination of website and class meetings are the best online course I have ever taken". Debra Prat

"Thank you, Birgit. YOU make learning fun, accessible, a DREAM come true! Your fine instruction makes it possible, "Frances Gill-Turano
"This course is still one of my favorites. Along with the 'Framing Without Glass'". Tova Roseman
Birgit, "You're an awesome teacher! The best I've ever studied with. Sincerely." Emma Muzzy
" can't tell you how much I enjoy your courses, Birgit, you are a very generous and skilled teacher." LInda Read

Birgit! "You are amazing master of painting enriching our minds, hearts and imagination with your art." Thank you, Zlatica Stauder
Dear Birgit, "I recently purchased your Rocks, Sand and Sea Glass course. It was an absolutely fun and educating program and I have enjoyed watching it several times over the past months. I have also developed a few paintings from your ideas and have been extremely pleased with the results. Thanks so much for your insight. You have a wonderful way of teaching and making the concepts easy to follow. I always keep a "rock/sand" picture running in the studio, working on shells and other additions to make the painting look more interesting. It is a lot of fun". Bob Field
Hi Birgit "I am a retired art, elementary, and Montessori teacher with over 30 years experience. I tried other classes but I think I've learned the most from Birgit's online courses. I love the feedback she gives, it's way more than I have received before. I find it so valuable. I look forward to doing more". Jann Clare