Wet & Wild Plein Air Painting
Independent study
Take a moment, go outside, be with your surroundings and breathe.
You don't need to be a master artist to have fun. The idea of this course is designed with the idea that everyone can enjoy Plein air painting.
Learn to be spontaneous, loose, and successful. No fundamental drawing skills are required, and you will be astonished at what you can do quickly. Begin in the studio, then take what you have learned outside to paint anywhere at any time.
You will be surprised by the confidence you gain and the fun you have.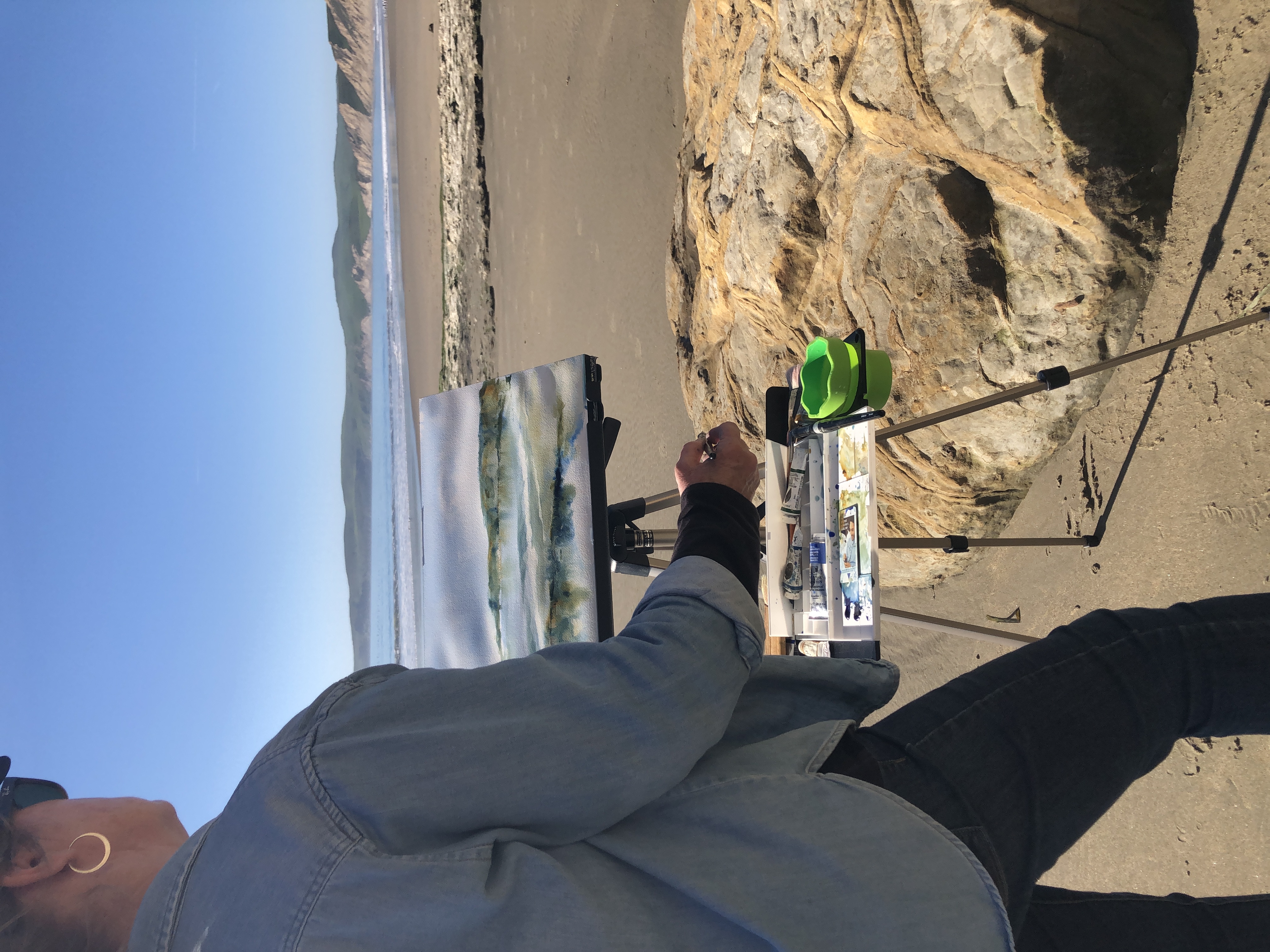 Paint anywhere at any time.

For years, I have thought about doing some Plein air painting; it all seemed so romantic, but the idea of being so visible to everyone going by was a bit scary.
With so much external stimulation, I thought it would be overwhelming not knowing what to focus on and what if the image wasn't perfect. I would be humiliated.
So this is what happened and how the love of Plein air painting began.
It was a beautiful day, and we had a power outage out of nowhere. That meant I couldn't continue with what I was doing in the studio, so I threw some old tubes of color into a bag, a block of paper, and an easel (that I had not yet used) and went for a drive.
I found the perfect spot, thinking that no one would see me while I tried to build my confidence; then, out of nowhere, I was surrounded by a hundred birders.
That experience forced me to remove all the distractions around me, focus on what I had control over, and release my expectations of what I thought the outcome needed.
This type of painting releases the need for a line drawing and instead focuses on technique by simply allowing the water on the surface to carry the color and create some magic.

It's an entirely different experience!

All levels can enjoy this experience.
You don't need to be a great artist or be in a beautiful location, only inspired.
Let your imagination go and focus on the surrounding space, shapes, and color. Even when time is limited, with 20 - 30 minutes, you can still paint. It doesn't have to be perfect and will leave you feeling creative and re-energized.

Student review
"This is it a very informative and guide for loose and plein air painting. It is well done and realistic for the beginner and seasoned plein air painter. The exercises in the studio take you down the path for loose painting and in plein air section knowledge of what one might expect and look for standing there outside painting.
In the plein air section I felt as though I was there with you, and your subject matter is varied and so are the weather and lighting conditions. Beautiful
"When the painting isn't working" is my favorite sections, it tells us you really know, understand and feel our struggles and dilemmas.
You put everything on the table to teach how to work your magic." Trish Kuncewicz