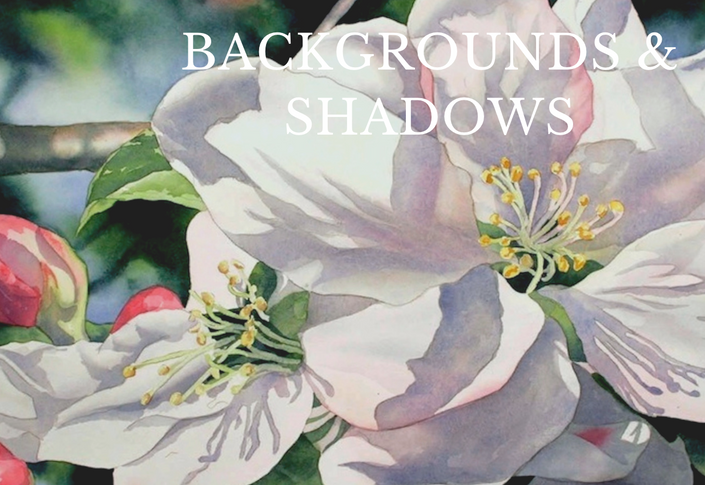 Backgrounds & Shadows Special 6-week Interactive course
Sept 14 - Oct 26, Explore new ideas and how you can take your paintings to the next level
Watch Promo
Backgrounds and shadows can be a common problem for many artists, you may ask yourself, should I paint the background first or last?

You can easily get stuck, no matter what the subject is, should you paint what you see, should it be one color, how can you make it interesting but still keep the attention on your subject of interest?

Here we will explore, lots of different options, tips and techniques, while keeping it simple and easy. Then using what you have learned, to develop your skills, apply them into two beautiful paintings that I think you will really enjoy.

This is 6-week online course, and it is so much more than just a Zoom only class, a full curriculum is already included and is available for you to paint at your own pace, submit paintings as you like, ask questions and then join the optional live meetings or watch the recordings later. In the live meetings we will review your paintings, problem solve, along with demonstrations.

What students say
" Just wanted to say WOAW !!! your way of approaching a painting is very different (yes I do start with the background first) and sometimes I'm doubting the process .... but then I follow through and ... WOAW ... it all comes together. I simply do NOT understand how you can foresee the end result of a painting without the background ( please don't say experience ;-) as it feels to me like working in a vacuum... but i am blown away by the process. " A Chapis
"Love the bonus material. What a bonus :)" Loree Landry
"I am really enjoying your classes. I enjoy painting the flowers and the format is perfect for me as it gives me lots of time to work on the paintings. The interactive online sessions are fantastic!" Lynn
"Thank you for the brilliant lessons. You are easy to listen to and you are so thorough with your explanations.Your approach is so rewarding. Thank you so much." Wendy McLennan
Birgit is an excellent instructor who is organized, informative and thorough in her presentations. Also she is very supportive and helpful in her comments on the painting submissions. I felt strongly that she really wanted me to learn and improve and produce a painting that would make me feel that I had achieved a result that would be worthwhile. I would take another class from her in a heartbeat. Sincerely, Trish Kuncewicz
I never would have had the courage to put such a background on a painting before taking your lessons, but I can see now how much of an improvement it makes". Jeanne Hall

Thank you, Birgit. YOU make learning fun, accessible, a DREAM come true! Your fine instruction makes it possible, Frances Gill-Turano

6- Week Interactive Course

Do you paint the background first, or leave it for last, keep it the white of the paper or add lots detail and color. These are just of a few of the questions we will be covering. In this course, I'll help you find new ideas and different approaches to apply into your paintings using a push-pull affect to create more depth. Course includes two full step-by-step paintings "Apple Blossom" & "Quince" learn how to how to change and rearrange reference photos and transform them into more pleasing compositions.
Lifetime access
Live group meetings
Go at your own pace
Paint anytime day or night
Ask questions
Downloadable PDF reference photos and sketches
Learn how to create your own reference material for future paintings.
Understand how to change the feeling of a painting to brighten it up, make it moody or intense and dramatic.
Why values are important
Learn more about the water to color ratio
The full course opens on the specified date and runs for 6 weeks.
After the end date of the course, you can still participate with limited interaction.
Learn how to fix and recover from a dreaded bloom in the middle of your painting and use it to your advantage.
Course is rich in content
Free Bonus Course Included
Backgrounds & Shadows Sept 14 - Oct 26
More than only a Zoom meeting course, all the lessons are already included within the course, simply login, start at the top and work your way down.
Meetings are optional and scheduled every other week to check on your progress, problem solve and review.
Painting reviews
Paintings will be chosen from the submissions that best represent common issues that are helpful to the entire group. Please submit only one of each lesson and your best effort.
Everyone paints at a different pace, and with that in mind, the schedule below will be our goal and of the focus meetings.

Meeting dates
Sept 14 - introduction (how the course works, Q&A)
Sept 28 - backgrounds and worksheets (review)
Oct 12 - Apple Blossom (review)
Oct 26 - Quince (review)
Meeting time
11 AM (PDT) San Francisco
12:00 (PDT) Denver
1:00 AM (CDT) Chicago
2:00 PM (EDT) New York
Your Instructor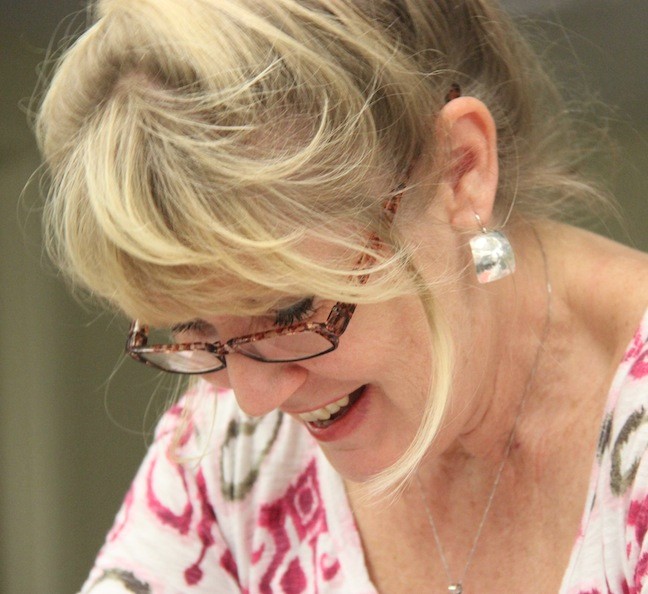 Birgit O'Connor, known for her original paintings and inspirational teaching style, is an award winning artist, master artist of CWA, NWWS, LWS and respected judge and juror.
She is the author of the top-selling North Light books " Watercolor in Motion""Paint Watercolor Flowers" and "Watercolor Essentials"
Birgit has been included in over 60 national and international publications. Her memberships include Cambridge Who's Who, Who's who in America and Who's who in American woman
Course Curriculum
Welcome
Available in days
days after you enroll
Meetings
Available in days
days after you enroll
Material list
Available in days
days after you enroll
Frequently Asked Questions
When does the course start and finish?
The course starts now and never ends! It is a completely self-paced online course - you decide when you start and when you finish.
How long do I have access to the course?
How does lifetime access sound? After enrolling, you have unlimited access to this course for as long as you like - across any and all devices you own.
What if I am unhappy with the course?
We would never want you to be unhappy! If you are unsatisfied with your purchase, contact us in the first 30 days and we will give you a full refund.
Testimonials
"I have appreciated all of your lessons and your ability to put water control into words and through demonstration. You are able to see things and say things in such a constructive way that I feel everyone is able to grow in their art. I have some of your books and DVD's but the interactive portion is far superior. Thank you!" Jean Matuszwski
"Thank you for the brilliant lessons. You are easy to listen to and you are so thorough with your explanations.Your approach is so rewarding. Thank you so much." Wendy McLennan
Thanks so much for your teaching these incredible online workshops...they are magic! :) Debra Laurie
HI Birgit, I want you to know that this particular format with your personal reviews and critiques and the combination of website and class meetings are the best online course I have ever taken. Debra Prat

Thank you, Birgit. YOU make learning fun, accessible, a DREAM come true! Your fine instruction makes it possible, Frances Gill-Turano
Hi Birgit, I really like watching you paint… Your courses are amazing! Cheryl F. Canada
Thank you Birgit..... I am much encouraged. I have all the right equipment and am learning a lot. IT IS INCREDIBLE to be able to get advice from an accomplished artist. I shall persevere! Pat
Hi Birgit Your courses are 100 percent effective. Thanks, Fay
Hi Birgit... I'm thrilled with your extensive comments. :-) I'm really enjoying the course and to have such a valuable critique is such a wonderful addition to this course. Its as good, or possibly even better than being in a class with you. Feel like I'm on the right track with the right tutor to help me. Kind regards from Jude. :-)
WOW!!! You are such a real professional!!! I love how you are instructing...quiet, confident voice, SAYING exactly what you are doing and why, SHOWING exactly what you are doing and why, USING the reference photo as a guide and REFERRING to the practice sample as a reminder that "you can do it"!! And then GIVING the students time to put into practice what you've just taught with your comments and suggestions ready to help! WOW! Not only a first class instructor, but an excellent and beautiful artist. I LOVE YOUR WORK! Cheryl Feragen
I can't tell you how much I enjoy your courses, Birgit, you are a very generous and skilled teacher. LInda Read

Birgit! You are amazing master of painting enriching our minds, hearts and imagination with your art. Thank you, Zlatica Stauder
Birgit is an excellent instructor who is organized, informative and thorough in her presentations. Also she is very supportive and helpful in her comments on the painting submissions. I felt strongly that she really wanted me to learn and improve and produce a painting that would make me feel that I had achieved a result that would be worthwhile. I would take another class from her in a heartbeat. Sincerely, Trish Kuncewicz

I wanted you to know that I really appreciate your calm teaching voice. It was one of the main reasons I chose your class. You speak very thoughtfully, slowly, and clearly. While watching the videos, I picked up a lot of helpful instruction, before of working on the actual painting. Using the sweeping upstroke to avoid spreading at the end of the stroke, and softening the edges of lines with a larger brush both worked beautifully, much improving my first attempts! I'll be starting to paint the poppy tomorrow – so excited! Thanks in advance, Laurie
Hi Birgit. Wow!!!Looks great!!!You are tireless!!!! I love the video courses. Thank you for sharing your expertise with the rest of us. Mary Louise
Dear Birgit you are my all time favorite artist and I have purchased your some of your courses as well as a copy of the watercolor magic magazine you are featured in. H. Merchant AUSTRALIA
"I am really enjoying your classes. I enjoy painting the flowers and the format is perfect for me as it gives me lots of time to work on the paintings. The interactive online sessions are fantastic!" Lynn

Hi Birgit I am a retired art, elementary, and Montessori teacher with over 30 years experience. I tried other classes but I think I've learned the most from Birgit's online courses. I love the feedback she gives, it's way more than I have received before. I find it so valuable. I look forward to doing more. Jann Clare

"my confidence has been boosted. The lessons are so easy to follow. Thank you so much for putting together these courses." Barbara Nelson