Who is this subscription is for
Great for all levels
To take full advantage of this membership, I suggest you join the weekly meetings to discuss problem-solving and painting reviews from my selected team of other artists.
Beginners who are just starting can learn from the carefully selected curriculum of lessons to build skills gradually.
Intermediate to advanced artists who want to move beyond the basics and learn how to bring their paintings to the next level with continued community support. For this level of artist, if you like, you can jump over the beginner lessons, but I highly suggest to help you to have better an understanding of my process that, you revisit all lessons.

This curriculum is based on my three best-selling books, Watercolor in Motion, Painting Watercolor Flowers, and Watercolor Essentials.
We begin with water-to-color-ratio blending, washes, and why brushes matter, then start with simple lessons to build skills then apply what you have learned to your paintings.
Includes line drawings, reference photos & over 109 project and video lessons.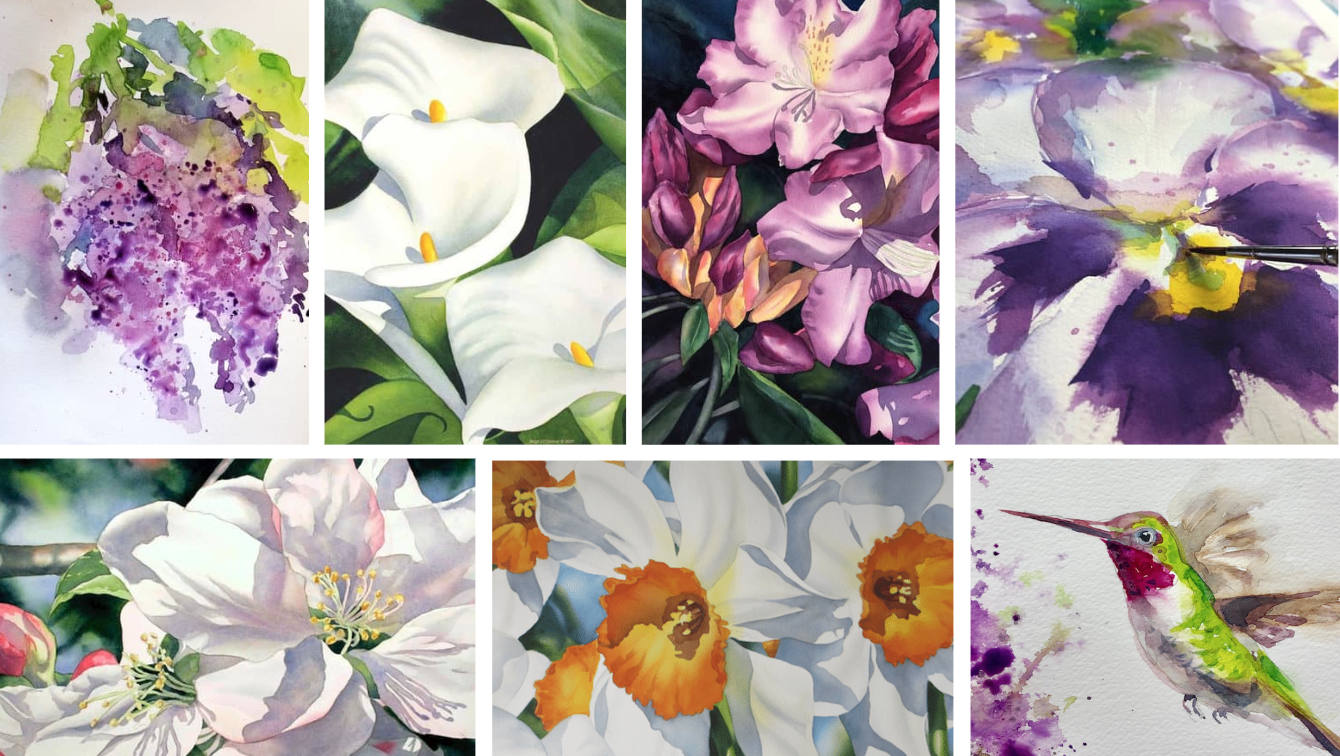 Just a few of the included lessons


This is an excellent option for any skill level to support you and keep you motivated to paint as you continue your journey as an artist. Watercolor in Motion includes carefully selected lessons from some 6-week courses and others only for my members.
Continue with community support, with different meetings every Friday that range from problem-solving, peer groups, and discussions with the meeting link directly within the course.



Become the Artist You Have Always Dreamed Of
No matter what medium you choose, experimenting is always a great idea and an excellent way to find what you like best and what works best for you.

Your instructor, Birgit O'Connor
About the artist
Birgit O'Connor is respected international judge and juror, known for her original paintings and inspirational teaching style. She is an award winning master artist with signature status at M-CWA, M-NWWS, M-LWS.
Birgit has been included in over 60 national and international publications. Her memberships include Cambridge Who's Who, Who's who in America and Who's who in American woman, and is one of the top bestselling authors of North Light books, titles inlcude Watercolor in Motion", "Paint Watercolor Flowers" and "Watercolor Essentials"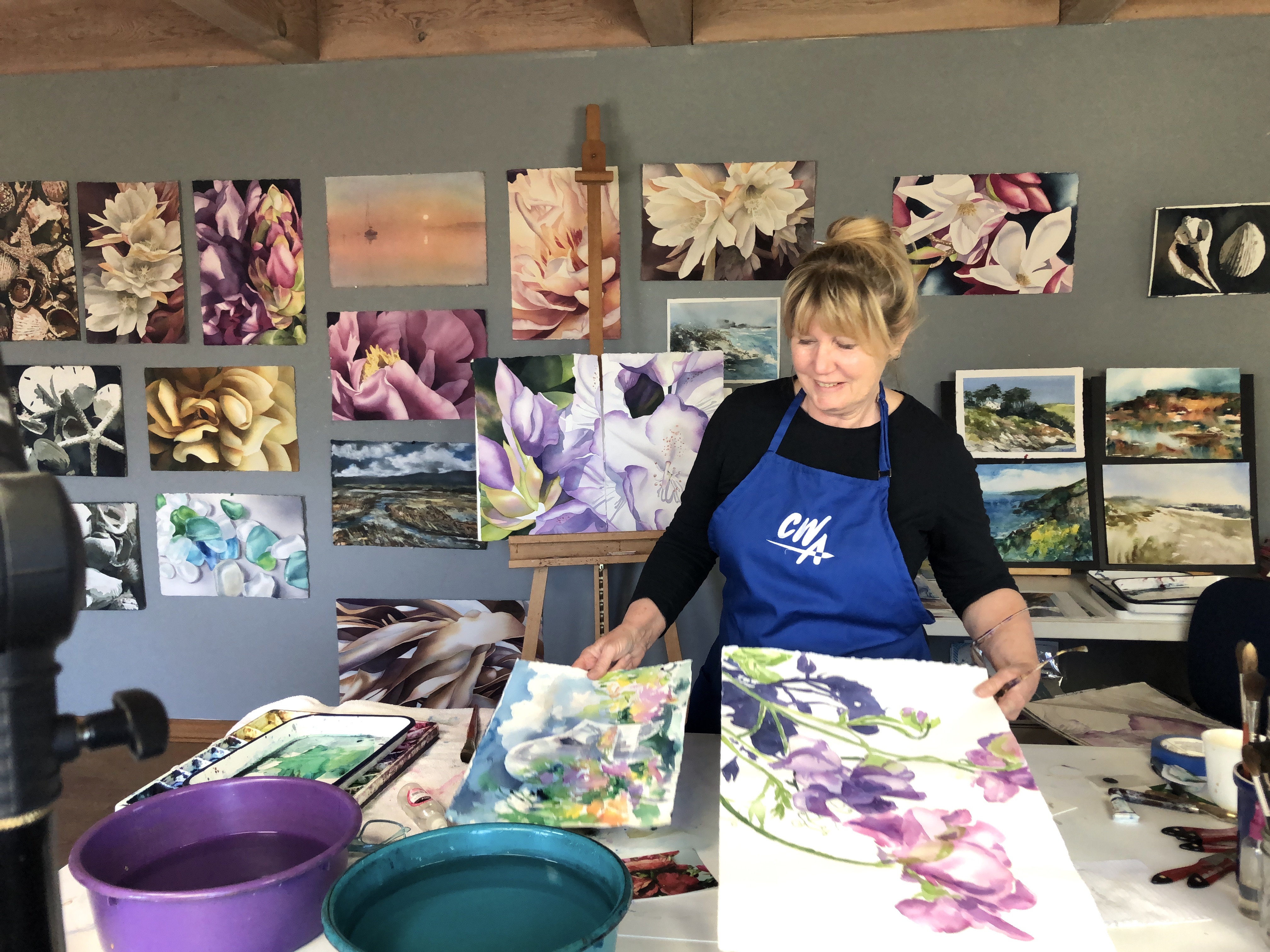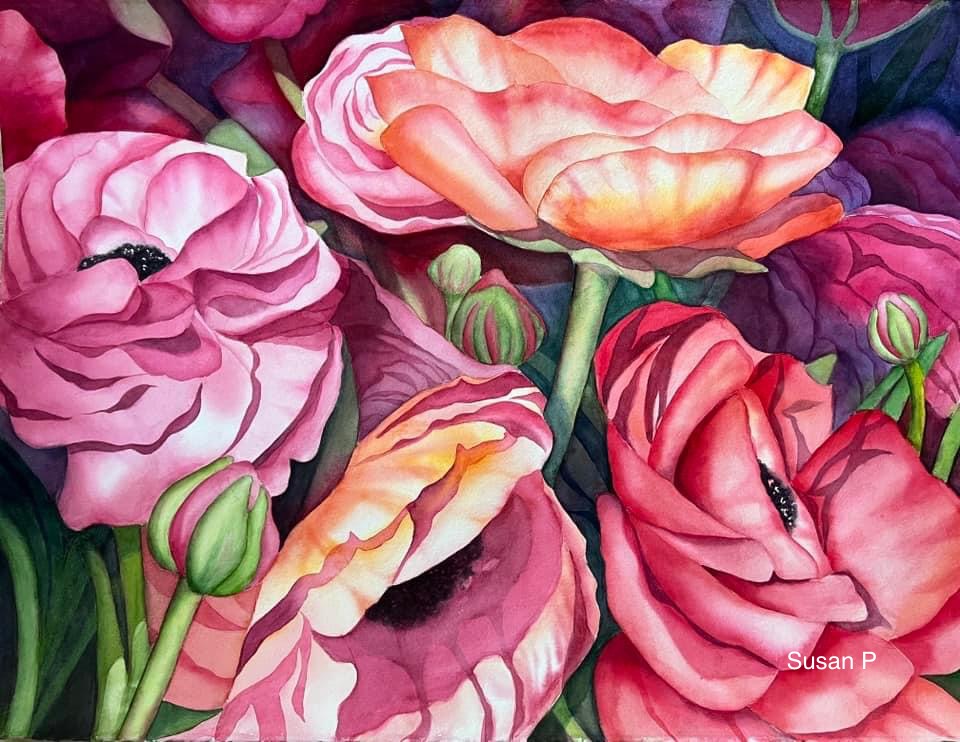 Student painting
Flowers in Bloom Course
Watercolor in Motion and Beyond the Courses Member

Birgit, I want to thank you!!!
This painting has changed my thinking and perception of myself. It is the most complex painting I have done. For the first time, I feel like I can call myself an artist. It really impacted me. Thank you so much for all of your wonderful teachings. The Blooms course was a game changer for me. I feel like I have the courage now to paint big and grow.
Susan Patterson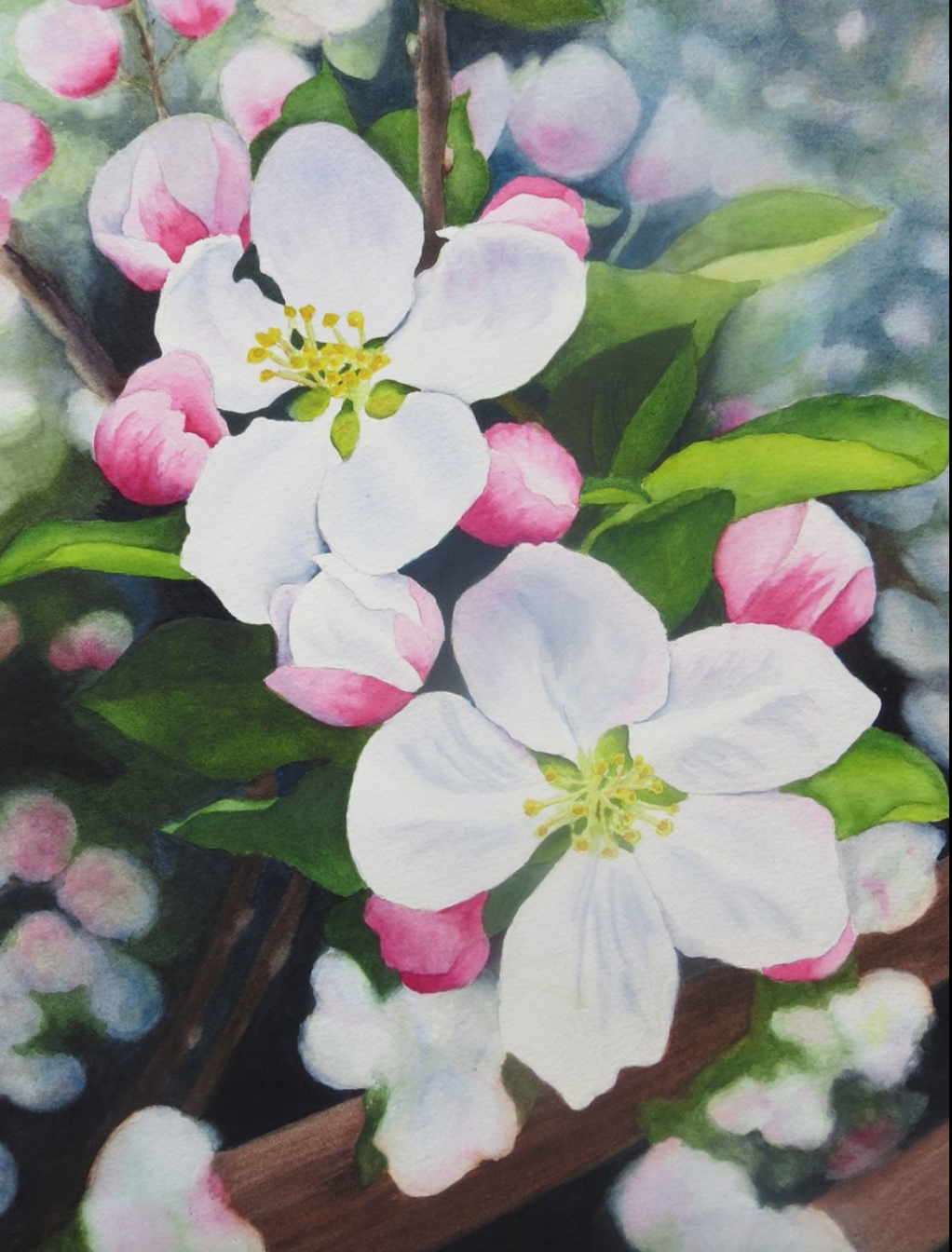 Student Painting
Watercolor in Motion and Beyond the Courses Member
"Your classes are addicting!!"
Gay Weston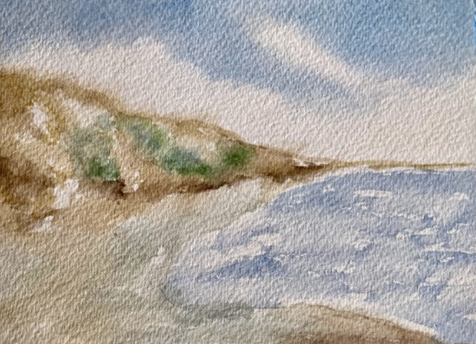 Student painting
Waves & Water Course
Watercolor in Motion Member

Thank you for a fabulous class. It is so jam-packed with techniques, brush strokes, use of water and color, but so many other subtle techniques. I appreciate that you included ways to change the paintings and add our own spin.
I would love to take it again.

I appreciate, too, your critiques that are so helpful and so encouraging. We are in a safe place to learn, stretch and grow.
THANK YOU for being you.
Spring Walton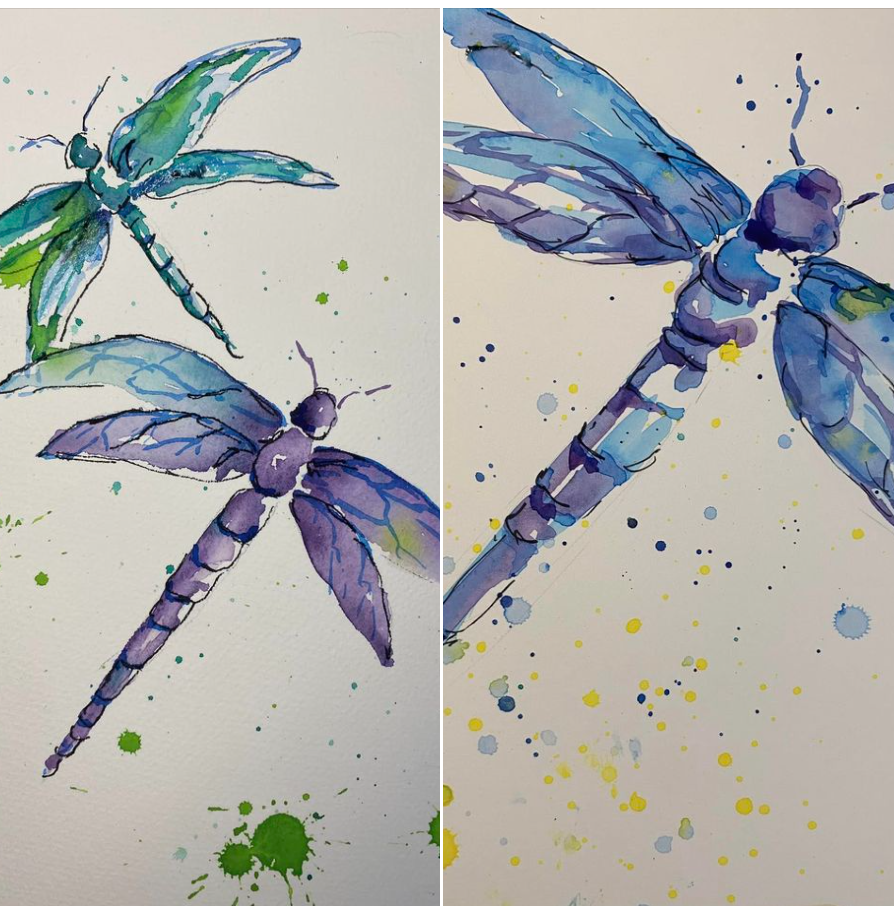 I have painted with Birgit for over five years and the best testimonial that I can give is what others have told me. They point out how much I have grown since taking her classes. She covers skills from beginning to advanced. I love to go through the WIM curriculum to hone my skills. There are so many lessons that I visit and revisit. The Dragonfly lesson was a good reminder on painting loose. Jump in, the water is fine!
Claire Shadow

What students say:
"If it weren't for you, I wouldn't have the knowledge or confidence that you have instilled in me over the last three years! I learn something new every time I pick up a brush, and I plan to continue taking your courses as long as I can…they have become a very necessary part of my creative journey, and I can't thank you enough. Please feel free to use my comments …they come from the heart☺️" Gloria Anderson
"Once you discover Birgit she is the best instructor out there and from whom you learn the most - well you stick with her! Tina Mewhinney TX
"I feel like this is the first painting I'm actually proud of … something seems to be clicking. Thank you Birgit" Jane Andel
"I can't praise Birgit O'Connor enough , been buying her books for years and now I get to be a part of her Watercolor In Motion group too , pinch me I think I'm dreaming !" Tracy Lustick
"As one of those who longed to be able to call myself a watercolor artist, I am now on my way to fulfilling that dream, thanks to Birgit O'Connor's courses. She is a gifted, encouraging teacher who cares so much about her students that her generosity is unlimited, as demonstrated by the amazing amount you'll learn by studying with her. I am so grateful to her for opening a joyful, creative new world to me." Lee Sorenson CA
"Birgit is a fantastic teacher. You feel like you are part of an in-person class that is very professional. Just. Sign. Up." Terry Woods
"I started in February with this amazing teacher...I'm having a blast, learning skills and feeling confident with my brushes again after many years!!" Merri Chester TX
"I am still awed by Birgit's passion for watercolor, her willingness to experiment, and her dedication to meeting the needs of her students. I have enjoyed every minute spent watching her paint. Such painless learning! Birgit is taking us deep into her creative process" Sue Warnock MI
"I LOVE your demos! It is SO helpful to watch you mix the paint, how much water you used, how to get the water onto the palette. "Thanks to you! Just to be able to use the photo as a reference and put paint on the paper that sort of resembles the photo, is something I have never ever done before! THANK YOU!" Agnes NM

Frequently Asked Questions
When does it start and how long do I have access?

It starts as soon as you enroll with access as long as your subscription is active.
Is this a replacement for other courses?
No, this is a skill building subscription, that includes selected lessons and focuses on student development and is not a one on one course.
What if I cancel my subscription will I still have access to the lessons?
No, access is only granted to active members.
What if I have time left on my membership and want to cancel, will I still have access?
If you cancel within your account, you have access to the course content until the renewal date, but once the cancelation trigger happens you will immediately be removed from the Facebook community or if you request that the admin cancels your account all access ends as soon as you are canceled.