Develop your painting skills with my simple and fun watercolor painting courses.
Start your journey below! 

"My online watercolor courses are designed for all skill levels and are a great way to grow as an artist. If you want to know where to start, you can choose from any of my Starter Bundles (coming soon) or check out my new courses!"

New Release - Just added
Sweet Peas
Independent Study
Sweet peas are always a nice addition to any garden, in fact you can usually smell before you see them. They are known to be easy to grow and grow wild along the roads of where I live here in Bolinas.

They bloom in spring and early summer and are delicate flowers. I have been asked by students how would I paint them, and to my surprise they were a bit more challenging than I thought. I usually approach my paintings with purpose and am interested in a wide range of values and depth, but here in this subject matter my intention was different. I wanted to experiment with papers, be more delicate, encourage blooms, have it looser, and simply enjoy the journey.

Course includes five main lessons with each focusing on a different techniques. Start painting right away, for as long as you like, anytime day or night, downloadable with lifetime access.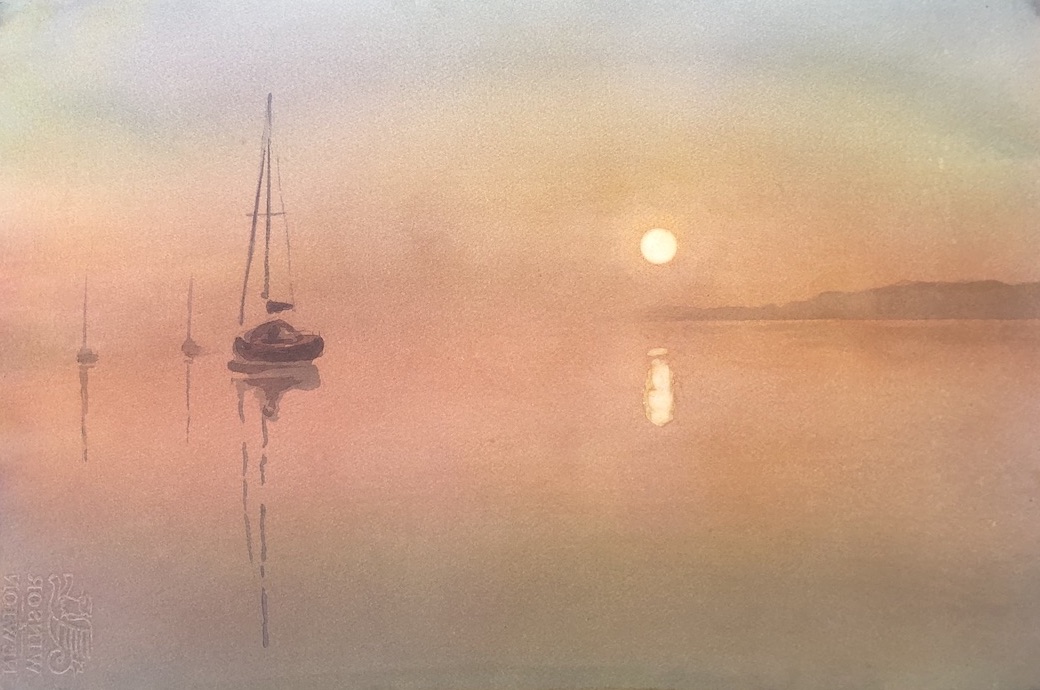 New Release - Just added
Sunset Sailing - 
Independent Study
Say more with less, it's a simple idea but knowing when to stop can be challenging, learn how to use the movement of water and color to evoke emotion.
This painting style is more than simply applying color to paper, learn to use your imagination or be inspired by your own reference photos.
Course includes 5 different lessons, plus Bonus lesson.
Great for all levels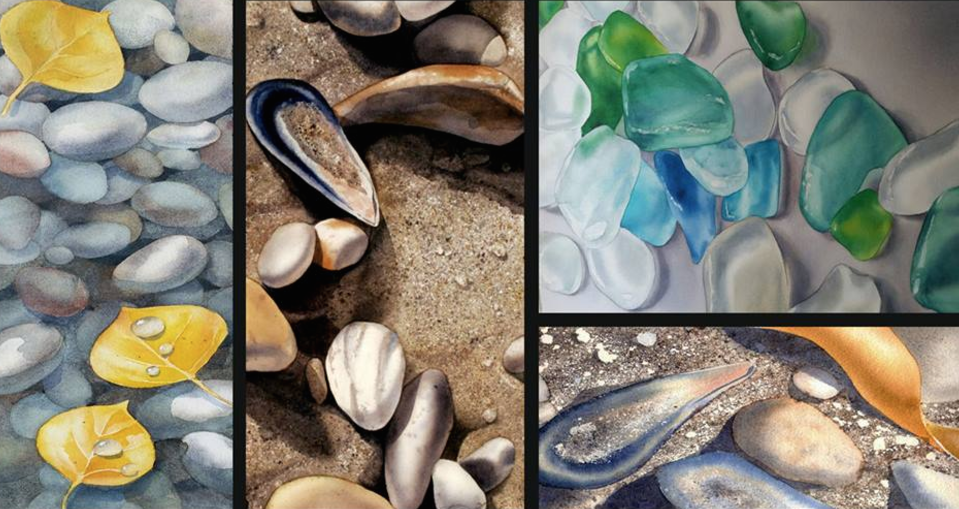 Featured Independent Study course
Rocks, Sand & Seaglass

Follow along with the step-by-step lessons, and learn to paint realistic pebbles and sand.
Begin with simple shapes, add shadows and incorporate texture if you like. These techniques can be applied to desert rocks or other gemstones.
Exercises and bonus content included. Learn to add depth to a painting learn how to push rocks rocks underwater, twist ribbons of kelp and paint transparent beach glass.
Paint anytime day or night, go at your own pace, downloadable lessons, lifetime access with no time limit.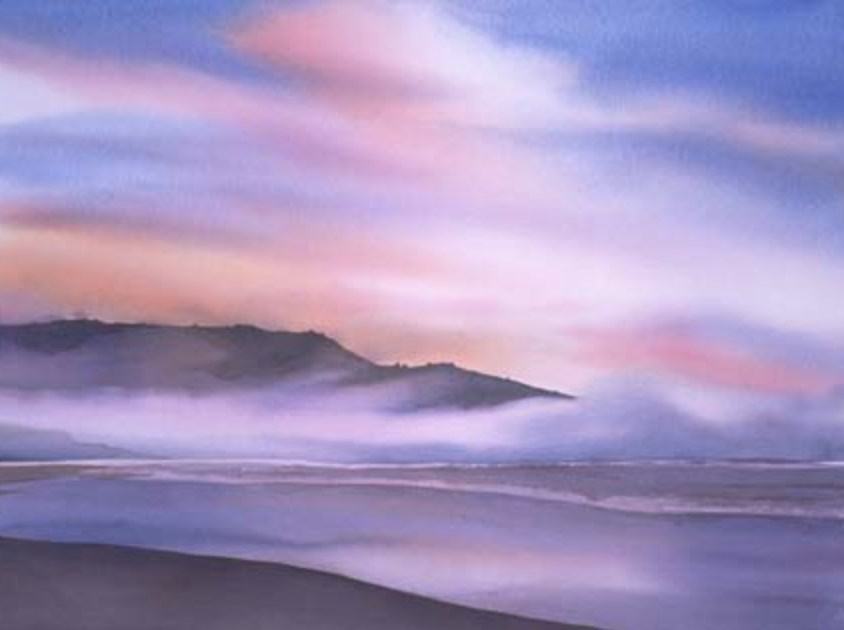 Featured Independent Study course Atmospheric Landscapes

Journey into the landscape using the movement of the water and color and learn how to get results you'll love. If you ever wanted to learn about watercolor and painting landscapes this is the place to start. Course includes 16 different exercises and lessons, all levels.
We have a lot to look at, just take your time and look around.

Independent Study Courses
Independent study courses are based on the lesson plans of my live 6 week classes. The content and structure is the same, without live meetings, Q&A or critique. It's completely independent and self-managed, paint anytime day or night, as long and often as you like.

Where to Start
If you're looking for a little direction, I highly recommend "Watercolor in Motion"
Check your inbox to confirm your subscription
What Students Say
"I have been taking Birgit's class since January this year and wish I could have found her class sooner. It's very addicting and no side effects:). Only side effect I can think is that your painting gets better." Mi Madden
"I just wanted to say that I think YOU ARE AMAZING!!! I can't even imagine how you pull all this together! The paintings and lessons are of course spectacular on the one hand, and all the computer stuff...getting it to work as well as all the responses...Great Scott!! I don't know how you keep up with it all!! You are so inspiring and constantly coming up with new ways to use your creativity!! It is always a joy to watch your magic with color and light! Geez!! Wow!! Thank you! I am loving the class, I think your teaching style and helpful comments are delightful and very instructive. Great job!!". Lisa Perry AR
"Thank you for clear and organized instruction. The combination of interactive live introductions, check-ins, of the review of work and feedback and excellent instructive videos to view at our own pace were all most helpful. In addition, your presentation, as always, is full of humor, great attitude and generous humanity. Your love of family, nature, place, art and service are values that can be felt in our exchanges throughout the workshops. You so carefully review each student's work and offer suggestions for improvement while also praising efforts and successful techniques and encouraging and inspiring your students. You are an amazing artist, instructor and human being. Thank you for the knowledge you share, the effort and time you devote to teaching all of us, your relaxed yet professional style, your ease of laughter and your generosity of spirit. What a memorable experience! Warm regards", Ginger Lang
"I've taken many of Birgit's classes and can honestly say they've made retirement the best part of my life to date - and I've had a great life. I'm a total amateur but the learning process is so rewarding and fun it doesn't matter. Birgit's the best!" Ally Keppel
"I just completed Birgit's two-day workshop, even if she were not giving lessons, I would participate in anything Birgit had to offer; I love her enthusiasm, her sharing and positivity. She is one of the finest teachers of any subject I have encountered, as well." Thank you, Birgit! Lee Sorenson
"Your teaching methods are so powerful, and your courses have enabled me to see almost everything is a very different way that I did "pre-Birgit"! Thank you so much for opening up my mind and helping me to make my paint brushes work for me in a way they never did before. I will definitely be taking advantage of learning more from you whenever I can." Thank you" Gloria Andison
"Wow...this was mind bending for me!! My first half sheet..Lots of head scratching but learned heaps. Waaaaay out of my comfort zone...but some how made it on the other side..😅" Merri Chester
"I cannot describe how much fun this was to do! :-) :-) I don't want this class to end! Thanks Birgit! " Gail Gabriel
"Your course videos and instructions, handouts etc were absolutely perfect. You leave nothing out of the instructions, thank you so much" Kathryn Bevin
"I want you to know that this particular format with your personal reviews and critiques and the combination of website and class meetings are the best online course I have ever taken." Debra Prat
"I love love love this course.. Thanks" Elaine Netland
Thank you!!! I would never have thought I could paint like this. Amazing instruction and so easy to follow. You are an excellent teacher!! Kathleen Parker
" This was crazy fun! this course is amazing! First art class I have taken, in person or any other way, with so much instructor input assistance and creative assignments! I'm just not used to the expert level of teaching and learning tons!!!! Le'Ann Key
"I 'discovered' Birgit's courses and membership about a year ago, and what a fabulous year it has been to my watercolour growth and skillset, thanks to her instruction and cheerleading us all on! I think, in this course, I am pushed out of myself-imposed box!! Diane McInnes British Columbia, Canada.
"You really have made a huge impact on my learning. One really important part is that I now have more confidence, and have all been enriched by your classes and community." Claire Shadow
"Your classes are addicting!! LOL" Gay Weston San Diego CA
"I Loved the way the class was managed. Too often I have felt some classes are a waste of time with too many "comments" from participants. I also love the fact I can review each demo. I must have watched the poppy demo at least 10 times! Thank you. I will definitely sign on for more! Be Well" TeriAnn Peri
Affiliate program
Share, promote and earn income. To find out more Click here